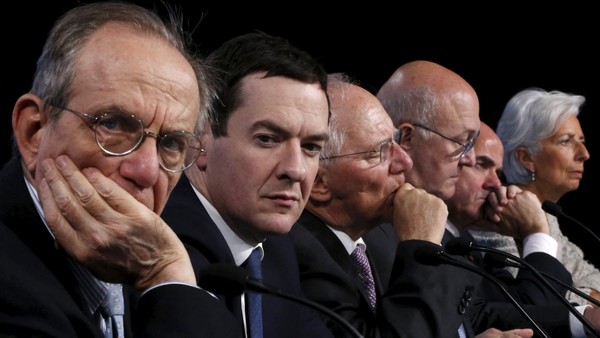 ©Reuters
Wolfgang Schäuble, Germany's finance minister, has warned British chancellor George Osborne that Berlin would be a tough negotiator if the UK votes to leave the EU.
Speaking on the sidelines of the International Monetary Fund spring meetings on Saturday, Mr Schäuble, one of the strongest forces in European politics, also jested that British football teams in a post-Brexit world should be excluded from the European champions league — something not actually linked to EU membership. 
His confirmation that Germany would not readily agree to an easy trading relationship with Britain after Brexit undermines the Leave campaign's argument that the UK would be able to secure preferential EU trade deals without freedom of movement of people or the need for Britain to contribute to the EU budget. 
The German finance minister, who is known for his unyielding negotiating positions, told German media that he wanted the UK to remain in the EU and did not want to inflame the British debate. But he added that if Britain were to leave, the process would not be easy.
The Treasury confirmed that Mr Schäuble told Mr Osborne just how tough negotiations would be after Brexit during a bilateral meeting this weekend — and made the same joke about European football. 
In Washington this weekend, finance minsters from around the world have gradually been waking up to the possibility that Britain will seek to leave the EU within a matter of months.
The IMF said it would wreak "severe damage" to the British and European economies. 
Christine Lagarde, the IMF head, admitted this week that while she hoped Europe would avoid having to deal with Brexit, "the continued relationship with other countries in the EU would be at risk". 
The difficulties of post-Brexit negotiations will be amplified by elections in Germany and France in 2017, European finance ministers said privately on the sidelines of the IMF meetings. 
With populist rightwing Eurosceptic parties threatening mainstream politics in both countries, the domestic incentives would prevent concessions to Britain as politicians would need to show their electorates that leaving the EU comes with a heavy price. 
Many European officials and ministers have tried to avoid the subject of how they would negotiate with the UK after Brexit, saying instead that they hoped the British people would vote to remain. 
But some did speak out. Klaus Regling, head of the European Stability Mechanism, said that the leave campaign's ambition to secure full access to the single market without accepting free movement of people and budget contributions "has never happened in Europe". 
"I'm pretty certain [the negotiations ] would take quite a while — two years is not enough — so there would be several years of high uncertainty, which would have a negative impact on the UK economy," Mr Regling said. 
The tough stance European officials and ministers take when confronted with the possibility of Brexit undermines with the optimism of Leave campaigners that a new relationship with the EU would be easy to agree. 
Boris Johnson, mayor of London, said on Saturday that it would be easy for Britain to get a replacement trade deal and also co-operate with other EU countries with agreements between governments on security and foreign affairs. 
In a BBC interview, he said Britain would be in a "strong position" after a vote to leave because it would be able to repatriate UK contributions to the EU budget, control its borders and stop an "irreversible tide" of EU regulation.
Copyright The Financial Times Limited 2016. You may share using our article tools.
Please don't cut articles from FT.com and redistribute by email or post to the web.