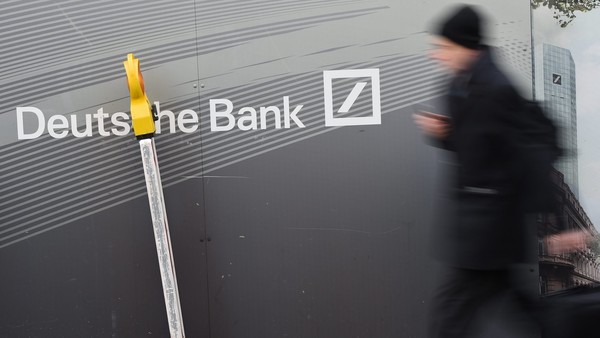 ©EPA
The European Central Bank is having second thoughts about the hybrid securities known as "cocos" that are designed to bolster the capital of banks but caused panic among investors this year.
The shift in sentiment at the eurozone's main financial supervisor against the relatively nascent market for contingent convertible bonds, known as cocos, comes as some of Europe's biggest lenders, such as Deutsche Bank, are also turning against them.
The ECB's Single Supervisory Mechanism (SSM) could find itself at odds with other supervisors, such as the Bank of England and Switzerland's Finma, which continue to support banks issuing the instruments.
Recent discussions between the ECB and Deutsche resulted in the German bank scrapping its earlier plans to issue more cocos, said people familiar with the matter.
Cocos are a key pillar in the regulatory regime drawn up to strengthen banks' capital levels and prevent taxpayer bailouts after the financial crisis. But while they are supposed to increase financial stability, concerns about them helped whip up market volatility in February.
Senior executives at several large banks have told officials at the SSM that the rules for cocos are too complicated and they could undermine a bank's financial position rather than strengthen it in a crisis.
The European Commission has drawn up proposals to clarify the rules for cocos and Danièle Nouy, chair of the ECB's supervisory board, last month called for a change in the law to resolve uncertainty around the instruments.
The latest form of cocos — known as additional tier 1 (AT1) bonds — force losses on investors when a bank's capital falls below a certain trigger level through conversion into equity or a writedown.
Iain Mackay, finance director at HSBC, which rebuffed a regulator's request to issue cocos during the turmoil of February, said the fact that the UK watchdog has banned banks from selling cocos to retail investors "tells you everything you need to know" about the complexity of the products.
The European AT1 market was first launched in 2013 and now stands at €93bn. It is projected to reach €226bn by the end of the decade, according to JPMorgan.
During February's sell-off, the market for selling new cocos shut down entirely. Since then, there have been a handful of new sales, most recently from BBVA in Spain and Rabobank in the Netherlands this month.
Deutsche was at the centre of the market volatility in February when investors grew concerned about the potential for it to stop paying coupons on its AT1s because of a multibillion-euro loss in 2015.
Germany's biggest bank has sold about €5bn of AT1s and said last year that it could issue another €3bn-€4bn. But John Cryan, its new co-chief executive, has scrapped that plan and said recently he dislikes the instruments, calling them a "bad product".
To meet European rules, most large banks plan to raise a sizeable chunk of their total capital from AT1s by 2019. But Deutsche thinks it can hit its capital targets without AT1s and has told investors it plans to buy them back once it can in a few years time.
Copyright The Financial Times Limited 2016. You may share using our article tools.
Please don't cut articles from FT.com and redistribute by email or post to the web.