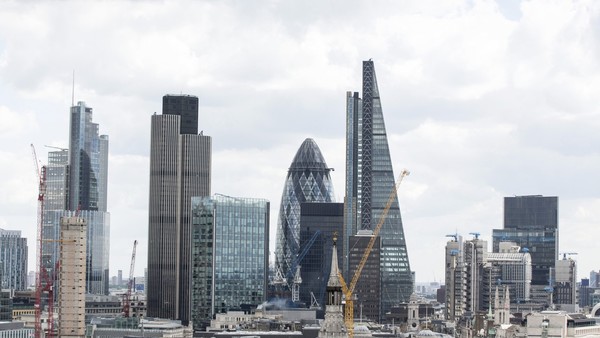 ©Bloomberg
The main lobby group for Britain's financial services industry has called for continued access to the EU's single market and to skilled staff from the region, setting it on a collision course with Brexit hardliners.
Unveiling a wide-ranging manifesto on the City's post-Brexit priorities, Chris Cummings, chief executive of TheCityUK, told the Financial Times: "We're very keen that the government negotiates mutual market access so UK businesses can have continued access to the European single market and so European corporates can have access to the UK, particularly London."
The report underlined this demand by calling for "mechanisms approximating single market passporting" — the facility that allows UK financial institutions to tap into European markets from London.
For the City, access to the single market has been a big driver of growth. International banks and asset managers in particular have used London as a springboard to sell products and services across the region of 500m consumers. At the same time they have relied on being able to move skilled workers seamlessly across borders.
Both principles have been thrown into question by Brexit. Theresa May, the prime minister, wants Brexit minister David Davis to decide over the coming months how much access to the single market Britain will trade for the right to control its borders.
Some leading pro-Brexit figures have advocated leaving the single market to avoid a trade-off on free movement. Mrs May has explicitly refused to guarantee the status of millions of Europeans living in the UK.
The manifesto covers both the UK's relationship with Europe and that with trading partners farther afield such as the US and China, presenting an alternative vision for growth, including expanding jobs outside London and prioritising innovation in financial technology.
It calls for a new focus on non-EU partners such as the US and Japan and for a dramatic acceleration of the industry's links with China, India and other emerging markets. Mr Cummings said: "We have to look at how to build the country anew free of the EU and set out a new global role for the UK."
The report also cites the need for Britain to revitalise its market infrastructure, preserve its leadership in investment management and secure London's place as the world's legal capital as English and EU law are disentangled. It stresses the need for a campaign to attract new foreign investment, including a "competitive taxation scheme for both business and individuals".
Other financial centres in Europe, principally Frankfurt, Dublin, Paris and Luxembourg, have begun efforts to lure business from Britain. Banks, asset managers and insurers have been busily preparing contingency plans
Now

is the time to act . . . In short, it means making the UK the best place in which and from which to do

business
– John McFarlane, TheCityUK chairman
"Now is the time to act," said John McFarlane, chairman of Barclays and of TheCityUK. "These [proposals] focus on an attractive tax environment for companies and people, a regulatory environment that promotes innovation for investment, labour laws that promote flexible modern working practices and great investment in digital as well as transport infrastructure. In short, it means making the UK the best place in which and from which to do business."
The UK's financial and professional services industry is responsible for 12 per cent of economic output. It employs nearly 2.2m people, pays more tax than any other sector (£66bn in 2014) and generated a trade surplus of £72bn in 2014.
While the main benefits of London remain — its timezone and language advantages, rule of law and infrastructure — jobs in financial and professional services firms are being threatened by automation and offshoring. London also faces increased competition from jurisdictions outside Europe such as the US and Asia. Brexit compounds all of these pressures.
Two-thirds of employment in financial and professional services in Britain is outside the capital, in cities such as Bournemouth, Birmingham and Edinburgh. TheCityUK warns that these regional clusters, where jobs are more at risk from automation and offshoring than those in London, a trend that could be more pronounced because of Brexit.
Copyright The Financial Times Limited 2016. You may share using our article tools.
Please don't cut articles from FT.com and redistribute by email or post to the web.