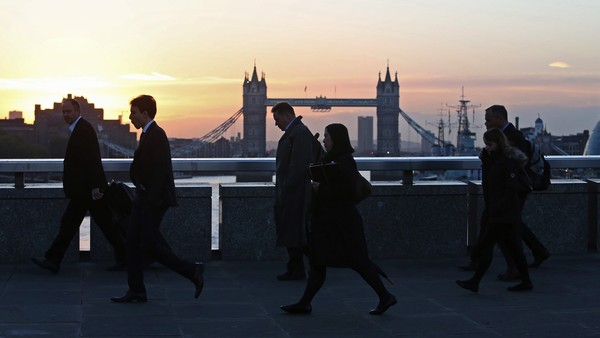 ©Bloomberg
It is a familiar ritual that takes place every spring. Across the City, employees from top rainmakers to ambitious young bankers wait for their bonus to hit their bank account before resigning to join a rival. The mass migration forms part of a merry-go-round of hiring that happens each year. Only this year it is different.
Uncertainty surrounding the looming referendum on Britain's membership of the EU means that widespread hiring has largely ground to a halt, with companies putting off making decisions until after the June 23 vote.
"There is indecision at the top end of the recruitment market because of a lack of clarity and understanding," says Philip Marsden, founder of executive search firm Ridgeway Partners. "The environment feels very different from how it normally does at this time of year. The situation is acutely worse in financial services because the downside of a Brexit is greater than in other industries."
If Britain left the EU, investment banks could lose access to the single market, which comprises more than 500m people across 28 European member states. Foreign banks that use the UK as a headquarters to gain a foothold into Europe may have to move large parts of their operations to other parts of the EU.
Financial services employers rely heavily on being able to recruit EU workers and so are reluctant to commit to hiring as a Brexit could prohibit free movement. Almost 11 per cent of the City's 360,000 workers come from elsewhere in the EU, according to the latest census.
The referendum jitters in the hiring market are compounded by macroeconomic concerns surrounding falling commodity prices and a slowdown in China. They are the backdrop to an already difficult market for financial services, as investment banks come under pressure from falling trading revenues, rises in provisions for bad energy loans and a slowdown in capital markets activity.
Nomura is cutting more than 500 of its European staff and abandoning most of its European equities business. Barclays has shed 8,000 jobs in four months, the fastest headcount reduction in at least five years, as it steps up a big cost-cutting drive.
The first quarter of 2016 was the slowest start to any year since 2009 for global investment banking fees. Fees in Europe declined 27 per cent on the previous year, according to Thomson Reuters, and proceeds from UK IPOs fell 50 per cent year-on-year, according to professional services firm PwC.
Dee Symons, managing director in the board and financial services practices at Russell Reynolds, says worries about a potential Brexit are one of "several factors" that are contributing to "a slow start to the year for most investment banks." She says: "Some clients are putting things on hold while we see this through. If you're a foreign bank with European headquarters you want to wait and see what happens, rather than investing heavily in advance of the referendum."
In the mass end of the recruitment market there is also a slowdown. A report last week from recruitment consultancy Morgan McKinley found that the number of available jobs decreased 21 per cent between February and March, and job seekers withdrew from the market.
FTSE 250 recruiters PageGroup and Robert Walters also warned in trading updates last week that uncertainty surrounding the referendum was denting confidence and hurting clients' desire to commit to decisions.
"In the first quarter you had a fairly savagely hit financial services sector, early Easter, banks deferring bonuses by a month which meant that people weren't moving, and the Brexit debate hanging over creating nervousness," says Robert Walters, chief executive of the eponymous firm.
Meanwhile PageGroup said profit from temporary placements rose 10.6 per cent in the first three months of the year, while permanent positions delivered growth of just 1.6 per cent. Permanent hiring is a bigger commitment for companies, and so tends to lose out to lower-risk temporary recruitment in times of uncertainty.
Headhunters say financial services firms are still hiring for specific strategic positions and replacing key departures. For example in March Barclays hired Carlo Calabria as its chairman of mergers and acquisitions in Europe, as well as eight of his colleagues from advisory boutique CMC Capital. The UK bank is also looking for a new head of its corporate and investment banking division.
And there are some bright spots, particularly in board work, compliance and digital hires. "There's still a lot going on around succession planning, ringfencing and separating out businesses, and there remains a strong emphasis on risk and compliance hires," says Ms Symons.
Michael Reyner, managing partner at executive search firm MWM Consulting, adds: "Board work is relatively unaffected by the nervousness over Brexit . . . [Banks] need to staff up subsidiary boards and [there's] a desire to add people to boards with cyber and digital experience."
Copyright The Financial Times Limited 2016. You may share using our article tools.
Please don't cut articles from FT.com and redistribute by email or post to the web.