How an industrial behemoth and an agile tech start-up took lessons from each other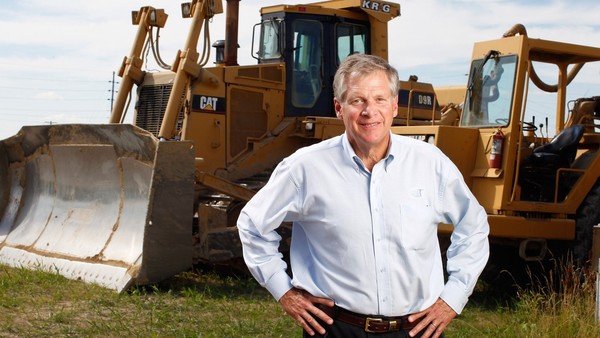 When Doug Oberhelman sat down last year at Chicago Ideas Week to discuss one of his latest ventures, the chief executive of Caterpillar had swapped his usual conservative business attire for a black leather jacket and jeans.
No doubt it was a reflection of the company the 63-year-old was keeping. Sitting on stage with him was a similarly dressed Brad Keywell, co-founder of the tech start-up with which the world's largest maker of mining and construction machinery has a tie-up. Listening to them were hundreds of the Windy City's keenest geeks and techies.
But Mr Oberhelman's new look was more than skin deep. Caterpillar, best known for its hulking yellow machines that dig mines and transport earth, has — alongside many industrial behemoths — increasingly looked to big data to raise profitability as capital spending from its customers has slumped. It is collaborating with a number of start-ups specialising in products from drones to predictive technology, Groupon co-founder Mr Keywell's Uptake being one of them.
These ventures — where big meets small, slow meets fast, old meets young and machinery meets software — are fertile ground for culture clashes. But Caterpillar and Uptake have taken lessons from each other, which they say resulted in fundamental improvements to both companies.
"It's the marriage of silicon and steel," says George Taylor, head of marketing and digital at Caterpillar.
"When you think about a large corporation, they'd think big a lot then they'd start big, [but] act slow. Uptake has helped us to think big, and act fast and small. It's a really powerful juxtaposition to a business like us and it makes us nervous a bit still."
The two companies first formed a partnership about two years ago. Uptake, which was reported last year to have a $ 1bn valuation and in which Caterpillar has an undisclosed stake, uses its proprietary software to trawl the immense amount of data collected from Caterpillar's clients to predict when a machine needs repairing, preventing accidents and extended downtime, and saving money.
Caterpillar conducted a study of a large mining company's malfunctioning machine, which had resulted in 900 hours of downtime and $ 650,000 in repairs. If the technology from the two companies' project had been applied, the machine's downtime would have been less than 24 hours and the repairs only $ 12,000.
In many ways Caterpillar and Uptake could not be more different. The former is nearly a century old and headquartered in the depths of rural Illinois, surrounded by landscape reminiscent of the crop-spraying aircraft scene in Alfred Hitchcock's North by Northwest. It employs more than 100,000 people across the globe.
By contrast, Uptake's 500-plus staff work in a contemporary open-plan office located in a historic downtown Chicago building, which 100 years ago housed one of the city's original start-ups — the Montgomery Ward mail order catalogue company.
The companies have seconded staff to each other's headquarters but they are swapping more than employees and developing technology together.
Caterpillar says that Uptake's focus on speed and agility is helping it become more nimble as a company as well as allowing staff more flexibility with experimentation. One of the inevitable byproducts of size for a company like Caterpillar is risk aversion — the default instinct is to protect the brand — and bureaucracy. Reducing those handicaps can give large companies an edge over rivals.
"It's the internet of things [as] applied to us, that's what's really starting to explode," Mr Taylor says. "[It's about] solving customer problems." But they have to, he says, "get it out there fast".
Caterpillar's customer expectations are high, as companies increasingly benchmark the performance of business apps alongside personal smartphone technology, irrespective of complexity, intensifying pressure on Caterpillar to get new products and updates out rapidly.
Greg Goff, Uptake's chief product officer, credits the public commitment of Caterpillar's senior executives with keeping up the project's pace. But another vital component has been that Caterpillar says it is more willing to allow decision making further down the chain of command — something Mr Goff has noticed.
"With a big company, decisions tend to be fragmented . . . and often get escalated," Mr Goff says. "They've learned how to empower people a little more to make decisions. And we've learned how to navigate their organisation and who to get into the meetings."
He explains: "Often who makes the decision is a difficult thing to find, just because there's a lot of stakeholders."
Uptake's comfort with moving fast led to a separate project, which began as a strict 100-day challenge to find a way to better control inventory: Caterpillar had no method for tracking when its dealers sold a part it had supplied them. The project demanded a system that could extract the data from Caterpillar's 175 global dealers' disparate databases and integrate them.
In the past, Caterpillar would have been reluctant to show its senior executives a project before it was almost complete, but the combination of a tight deadline and rising comfort levels with presenting work in-progress encouraged them to try it.
The company plans to deploy this new system over the next two years and expects to cut 10 per cent of its total after-market parts inventory costs.
The lessons have been far from one-sided, however. Mr Goff says that the Uptake team has become far more open about showing Caterpillar its progress — as assumptions it had made about working with a large company did not, they found, necessarily apply to Caterpillar.
Mr Goff adds that Caterpillar has made Uptake far more disciplined about communicating with its business partners over what to expect next, including developing a formal process around preparing clients for software updates.
"We grew very, very fast and sometimes that growth outpaced our maturity," Mr Goff says.
He adds that Caterpillar's scale enables Uptake to learn more rapidly than other start-ups because it is dealing with such a large number of dealers across the world instead of just a few. The same applies to data protection, he says.
"There are local, national and international laws that we're understanding and abiding by much more quickly than most start-ups."
While it is difficult to imagine Caterpillar's Mr Oberhelman and his staff at the Peoria headquarters all adopting jeans and leather jackets — or even start-up uniform hoodies — there has clearly been much exchange of lessons between these two very different companies.
Tom Bucklar, director of innovation and digital at Caterpillar, says: "I don't think they could have achieved what we've achieved by themselves, nor could we, and isn't that at the end of the day the best kind of relationship?"
Remote control: Investing for safer, less costly operations
If a driver operating Caterpillar equipment in a remote mine, or driving a truck down a highway for a long time, starts to feel sleepy, his head may briefly slump, or his eyes divert away from their main focus.
However brief that moment, back at Caterpillar's headquarters in Peoria, Illinois, a sensor can detect the movement, register it and respond by sending a prod, such as a vibration, into the cab to rouse the driver, improving efficiency and safety. This is thanks to a collaboration with Seeing Machines that began in 2013.
The world's largest maker of mining and construction equipment is hoping to beat the competition using tie-ups with a variety of start-ups, and investments through its venture capital subsidiary in Silicon Valley, investing in early-stage companies.
This way, Caterpillar gains insight into technology without committing excessive funds into one area.
For example, this year the company has invested in funds that focus on early-stage companies that are reducing costs in oil and gas.
Copyright The Financial Times Limited 2016. You may share using our article tools.
Please don't cut articles from FT.com and redistribute by email or post to the web.