R&D spike suggests bout of futurology from the iPhone-maker is more than just talk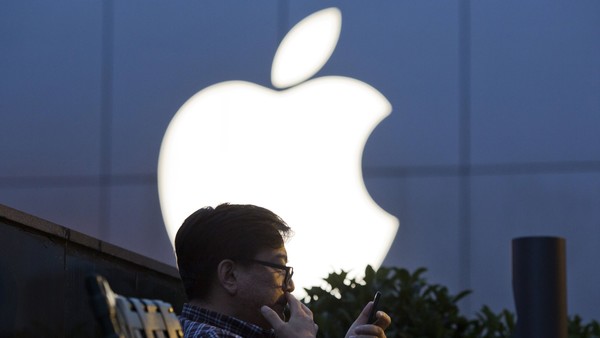 ©AP
Shares in Apple rose back above the symbolic $ 100 level in after-hours trading on Tuesday in spite of results showing a fall in sales, as Wall Street took a longer-term view of the iPhone-maker's prospects.
So far this year investors have focused narrowly on the iPhone's growth — or lack of it. After iPhone sales fell by 16 per cent in the quarter to March, Apple's third-quarter results showed only a moderate improvement, with sales down 15 per cent albeit at the higher end of analysts' expectations.
Its outlook for the fourth quarter indicated that the trend would continue, with analysts at Piper Jaffray estimating that Apple's total revenue guidance of $ 45.5bn-$ 47.5bn implies a year-on-year drop in iPhone units of 6 to 10 per cent.
With expectations lower than usual for the technological advances likely to feature in the next iPhone due out in September, many analysts are forecasting little to no growth for the next few quarters, too.
Yet in spite of the continuing decline in Apple's most important product, investors cheered Tuesday's results, sending its stock up by 7 per cent after hours to $ 103.25.
With the near-term outlook hazy, Tim Cook, Apple's chief executive, was unusually open on Tuesday's call with analysts about longer-range opportunities. These included its early foray into cars through Carplay and the living room with Apple TV, as well as artificial intelligence and Pokémon Go-style "augmented reality".
"Normally they focus on the short term and don't get into any kind of speculation. This time it was different," said Carolina Milanesi, analyst at Creative Strategies, a Silicon Valley consultancy. "Generally it seemed like they were saying, 'Let's talk about the future and not dwell too much on what is going on at the moment'."
A spike in Apple's spending on research and development showed that Mr Cook's bout of futurology was not all talk. Even as its revenues declined, Apple increased its R&D investment by 26 per cent to $ 2.6bn in the quarter. Over the first nine months of the fiscal year, R&D is up 28 per cent.
"There is quite a bit that we are doing beyond our current products," Mr Cook said.
The most ambitious of Apple's secret development projects is its plan to build an electric car. While Mr Cook did not comment directly on Apple's automotive ambitions, he did hint at entirely new product categories beyond its current portfolio.
Walt Piecyk, analyst at BTIG Research, noted that Apple's R&D spending as a percentage of revenues hit a record 6 per cent in the quarter, compared with 3.5 per cent for 2015 and just 2.6 per cent in 2013.
"When your [annual] R&D budget doubles to $ 10bn in three years, presumably you have some big projects in the hopper," Mr Piecyk said.
Throughout the hour-long conference call, Mr Cook made several references to Apple's development efforts in artificial intelligence and machine learning, which are improving products from its Siri virtual assistant to its Photos app.
"We have focused our AI efforts on the features that best enhance the customer experience," he said.
Mr Cook also pointed to greater ambitions in television. Last September, Apple launched a new set-top box promising to "revolutionise" the TV world through a combination of its App Store and a fancy new remote control.
Despite the lofty rhetoric, it is unclear how well the new Apple TV box is selling. The device is buried alongside the Apple Watch and iPod in its "other products" line, where revenues fell 16 per cent in the quarter. In an interview, Luca Maestri, Apple's finance chief, declined to disclose whether sales even grew during the quarter.
Yet Mr Cook said there was more to come from Apple in the living room. "You shouldn't look at what's there today and think we've done what we want to do," he said, identifying the current TV box as merely a "foundation" for bigger things.
One area of focus is bringing more original and exclusive content to Apple platforms. Earlier on Tuesday, Apple announced a deal with CBS Television Studios securing first-run rights to a new series of the popular Carpool Karaoke show, a spin-off of US chat show The Late Late Show With James Corden, which typically racks up tens of millions of views per episode on YouTube.
Most intriguing of the long-range bets mentioned by Mr Cook, however, was augmented reality — a technology that layers digital images on top of the real world. This effect can be achieved using a headset such as Microsoft's Hololens or the "mixed reality" goggles promised by secretive Florida-based start-up Magic Leap, or simply by using a smartphone's camera, as with the wildly popular Pokémon Go mobile game.
The Pokémon Go phenomenon shows that "AR can be huge", Mr Cook said. "We have been and continue to invest a lot in this. We are high on AR for the long run."
While no AR product has yet emerged from Apple's labs, as the Financial Times reported earlier in the year Apple has been hiring and acquiring significant expertise in virtual and augmented reality over recent months. Those efforts could manifest themselves in a future iPhone or Hololens-style headset, while some sort of heads-up display in an Apple car also seems likely.
Mr Cook said AR could produce both great products and a "great commercial opportunity", as long as other developers' apps can tap into what Apple develops. Analysts at brokerage Needham & Co estimate Apple could make more than $ 3bn in revenues over the next two years from Pokémon Go alone, through its 30 per cent share of in-app purchases.
While the future-gazing seemed to excite investors, Ms Milanesi warned that Apple could only dodge questions about lacklustre sales of its Watch, falling average selling prices for the iPhone and competitive challenges in faster-growing markets such as China and India for so long.
"You can waffle through one quarter," she said, but for shares to stay above the $ 100 mark, "this is not the kind of call they can have every quarter. It's just not going to fly."
Copyright The Financial Times Limited 2016. You may share using our article tools.
Please don't cut articles from FT.com and redistribute by email or post to the web.